Do I need a Green Card for driving my motorhome in Europe after Brexit?
If you have European travel cover on your Supersure motorhome policy and are planning a trip to an EU country (including Norway, Iceland, Switzerland, Serbia, Andorra or Liechtenstein) you will need to carry new documentation.
Now the UK has left the EU, motorists from the UK will need to carry a Green Card to drive their motorhome in the EU from January 2021. Please also check your passport is valid for travel.
Due to the current travel restrictions, we will automatically send all Supersure motorhome customers with fully comprehensive European Cover a Green Card by mid-February 2021.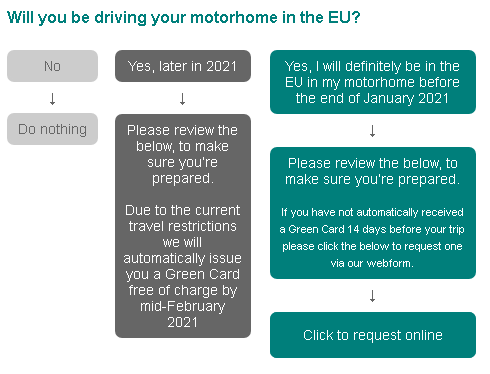 In general, you will not need an International Driving Permit (IDP) when driving in most EU countries for up to 90 days, but you must carry your driving licence photo card with you. There are some exceptions where an IDP might be needed:
If you only have a paper licence (no photo card)
If your licence was issued in Gibraltar, Guernsey, Jersey or the Isle of Man
You can keep up-to-date and request alerts from the Government's visiting Europe after Brexit website www.gov.uk/visit-europe-brexit.